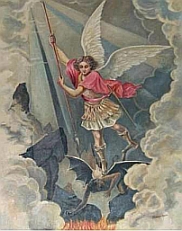 Welcome to the Second Bible
In the first few chapters of Revelation it is said that there will come a white stone with hidden manna, on which a new name is written (2 : 17). The White Stone is a part of the Eternal Gospel. And in the first few chapters of Revelation it is also said that new names of the divine characters will be revealed (3 : 12).

In Chapter 10, John, the prisoner on Patmos, is shown a new opened book, and thunderstrikes were speaking, but John was not allowed to write it down. It had to stay sealed. In chapter 5 it is about a sealed scroll which no one can open, a scroll written from the inside and the outside. But in later times this heavenly scroll would be revealed in parts, which is described as the opening of the seals in an apocalyptic world, which is now.
| | | |
| --- | --- | --- |
| English | The Eternal Gospel is available in English and Dutch | Dutch |